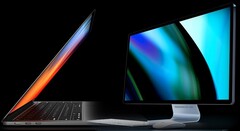 A young artist has produced a stunning concept render of a potential 2021 iMac powered by the Apple M1 Silicon. The striking design will have fans hoping something similar is unveiled by the Cupertino company in the upcoming Spring Loaded event. The same designer also recently created an M1X MacBook Pro 14 concept based on numerous rumors.
Ian Zelbo came up with some decent concept renders of an M1X-powered MacBook Pro 14 not too long ago, but his even more recent effort of an M1 Apple iMac is simply sublime. The all-in-one computer is instantly recognizable as an Apple product, but it's not just a basic touch-up here and fresh coat of paint there. It's a complete aesthetic redesign, apparently based on leaks from noted Apple tipster Jon Prosser, which manages to combine a chunkier frame than the current iMac models with narrower bezels and increased screen real estate to create a very attractive whole. The only thing missing is the same concept in all five expected colors for the 2021 iMac: silver, space gray, green, sky blue, and rose gold.
It's a hotly debated topic at the moment among the usual Apple leakers, tipsters, and general commenters on whether the iMac will actually make an appearance at the company's Spring Loaded event that takes place on April 20. It's possible, as has been suggested by some Apple watchers, that smaller iMac variants powered by the M1 Apple Silicon could be revealed, with larger more-powerful "M1X" models being prepared for launch later on in the year (potentially around WWDC in June or even later in November). Zelbo's M1 iMac render portrays the screen as the star, although you have to wonder where the famous Apple logo would go now.
The much-rumored M1X Apple Silicon powers the same teenage artist's efforts at creating a 2021 MacBook Pro 14. Apart from sporting a conceptual Apple M1X, this MacBook Pro 14 features the beloved MagSafe charger port, has room for an HDMI port and an SD card reader, and the Touch Bar's presence is no longer required. It's less of a design overhaul compared to the M1 iMac concept, but it's more likely the MacBook Pro will have greater changes on the interior than on the exterior. The inclusion of a 12-core M1X Apple Silicon processor and mini-LED display are just two of the major rumors about the MacBook Pro 14, which could make its first appearance by the end of the year, possibly around November.
Buy the Apple M1 Mac Mini on Amazon
Top 10 Laptops
Multimedia, Budget Multimedia, Gaming, Budget Gaming, Lightweight Gaming, Business, Budget Office, Workstation, Subnotebooks, Ultrabooks, Chromebooks
under 300 USD/Euros, under 500 USD/Euros, 1.000 USD/Euros
Best Displays, for University Students

Top 10 Smartphones
Smartphones, Phablets, ≤5-inch, Camera SmartphonesThe Best Smartphones for Less Than 160 Euros

Daniel R Deakin, 2021-04-18 (Update: 2021-04-18)