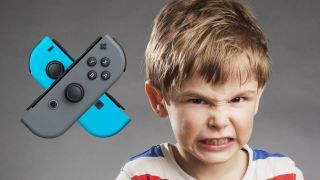 (Image credit: TunedIn by Westend61/Shutterstock)

La nuova Nintendo Switch OLED è stata annunciata qualche giorno fa e arriverà a ottobre 2021. Ha un nuovo schermo e poco altro, e qualcuno forse ha pensato che ci sarà anche una soluzione per il problema del Joy-Con drif. E invece no, Nintendo ha confermato di non aver agito su quell'aspetto. 
Un portavoce dell'azienda ha infatti spiegato a GameSpot che in controller della nuova console sono esattamente gli stessi di quella attuale, in circolazione dal 2017. Resta quindi il potenziale problema. 
Migliori giochi per Nintendo Switch
Recensione Nintendo Ring Fit Adventure
Quando esce Breath of The Wild 2?
Il Joy-Con drift ha "colpito" un buon numero di utenti Switch, nel corso del tempo. Si manifesta come una leva analogica che "si muove da sola", nel senso che c'è un input fantasma attivo anche quando non si sta usando la leva. Può portare ad azioni indesiderate e a perdere una partita. 
Ci sono state lamentele e denunce, e Nintendo si è pubblicamente scusata nel 2020. Eppure non ha ancora cambiato i controller potenzialmente difettosi. Chi sperava di passare dalla Switch normale a quella OLED per risolvere il problema, dunque, dovrà rinunciare all'idea. 
Verrebbe da gridare allo scandalo ma siamo tutto sommato di fronte alla "solita politica Nintendo". Anzi, a ben vedere il problema si è manifestato anche con i controller Sony DualSense e quello di Xbox, ma sembra che nel caso della Switch sia più evidente. 
Nintendo Switch OLED, che c'è di nuovo?
La nuova Nintendo Switch OLED tecnicamente è la quarta versione della console uscita nel 2017, considerando anche la Nintendo Switch Lite. Offre uno schermo più grande realizzato con un pannello OLED, altoparlanti migliori e una porta LAN sulla dock, insieme a più memoria di sistema (64GB invece di 32). Non una rivoluzione, dunque. 
Non è ancora chiaro se si tratti della chiacchierata Nintendo Switch Pro, ma sembrerebbe di no; almeno per ora, l'idea di una (imminente?) Switch 2 è ancora in circolazione. 
La nuova Nintendo Switch OLED si può già prenotare
Adam is a Senior Gaming Writer at TechRadar. A law graduate with an exceptional track record in content creation and online engagement, Adam has penned scintillating copy for various technology sites, and also established his very own award-nominated video games website. He's previously worked at Nintendo of Europe as a Content Marketing Editor and once played Halo 5: Guardians for over 51 hours for charity. (He's still recovering to this day.)